Epic Repic Reporter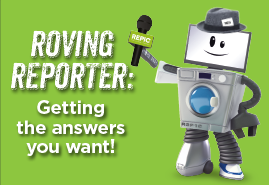 This month: R3P1C, our recycled reporting robot!

My name is R.3.P.1.C. I am made up of end of life electrical products including a washing machine, a TV and a remote control.

Recycling is very important to me. It means instead of wasting materials and throwing things away, we can reuse them to make new items. That means less damage to the environment and a happier, healthier world.

I hope children can learn how and why they should recycle and share this information with friends and family to spread the message. If we don't re-use parts from electrical items, the future of the world could be a dark place with limited resources, hardly any trees and plants and lots of pollution. Landfill space is already running out fast, which is why everyone needs to recycle now!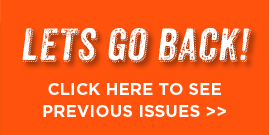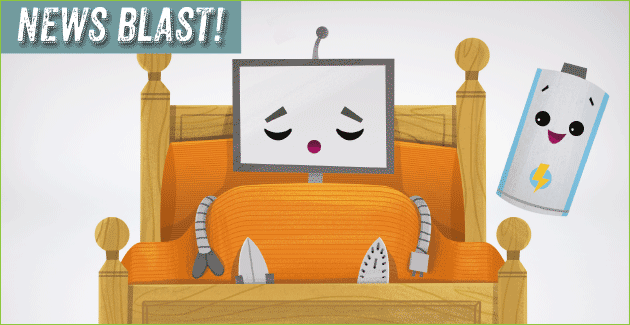 In February 2016, REPIC gave an important mission to a group of children up and down the UK. The task was to write an epic recycling adventure…
Eight schools from Edinburgh to Manchester were specially chosen to take part in an exciting recycling mission called the 'Pass It On Storybook Challenge'. Their job was to write a story all about the world of recycling featuring REPIC's robot mascot R3P1C and his side-kick, Amp. Each school was trusted to write one chapter and the book was passed onto the next school and the pupils were tasked with continuing the story.
In total, nine fantastic chapters were written with over 6 new characters introduced including: Doctor Waste, Mr and Mrs Eco and Plastic Bag Monsters. The book, called 'A Most Unexpected Day at The Recycling Plant', took 6 months to be finished and travelled a total of 1,111 miles across the UK from school to school!
The thrilling adventure story saw R3P1C set off from his job at the recycling plant on a dangerous journey. It all started on a simple walk to work - R3P1C's batteries were running low because his side-kick Amp wasn't around to help recharge him. As he got closer to work, all of a sudden he saw a mysterious person throwing someone small into a blue portal – it was Amp! R3P1C followed through the portal after his little buddy and was transported to a different planet. Where was his little friend? Who was the new mysterious leader everyone was talking about? And what was happening to beautiful Eco-World?
Keep an eye out for the full story which we'll be sharing soon.